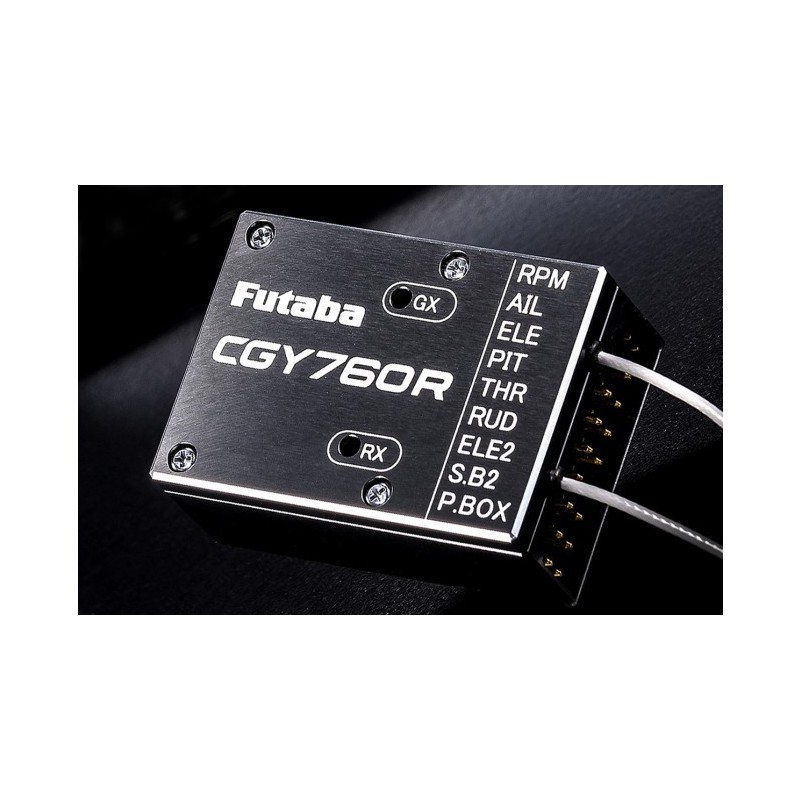  
CGY-760R GYRO + GPB1
Security policy
(edit with the Customer Reassurance module)
Delivery policy
(edit with the Customer Reassurance module)
Return policy
(edit with the Customer Reassurance module)
Three Control Systems in One
Futaba is proud to introduce the CGY760R, which combines a receiver, head speed governor and 3-axis heading-hold gyro into one complete unit. Perfect for flybarless helis, this convenient package is compatible with FASSTest and T-FHSS radios, along with S.Bus and S.Bus 2 system set-ups. It's also compact, lightweight and low-profile for easy installation in virtually any heli. 
Features
Receiver, head speed governor and 3-axis heading-hold gyro, all in one unit
Wireless parameter tuning through the Tx RF protocol
Based on the proven CGY750, winner of multiple flying contests
FASSTest/T-FHSS-compatible
S.Bus/S. Bus 2-compatible
Low-profile design, small in size and light in weight
High-speed operation and extremely low latency
Compatible with analog and digital servos
Feed Forward option for more precise operation
Basic and Expert menus
Updateable firmware 
Advanced, adaptive PID control loop
GPB-1 connects directly to the CGY760R for easy programming on an LCD screen
No customer reviews for the moment.